These items below are the confirmed merchandise and/or toys for Five Nights at Freddy's: The Twisted Ones and it includes the following:
POP! Vinyl Figures
Twisted Freddy Pop! Vinyl
Twisted Bonnie Pop! Vinyl
Twisted Chica Pop! Vinyl
Twisted Foxy Pop! Vinyl
Twisted Wolf Pop! Vinyl
Theodore Pop! Vinyl
Mystery Minis
Twisted Freddy Mystery Mini
Twisted Bonnie Mystery Mini
Twisted Chica Mystery Mini
Twisted Foxy Mystery Mini
Twisted Wolf Mystery Mini
Trivia
Although Twisted Chica does not exist she was made into a merch for the Books and designed by Funko themselves.

Additionally LadyFiszi confirmed she made an official Twisted Chica design, but it has yet to be shown to the public.[1]
Gallery
References
Books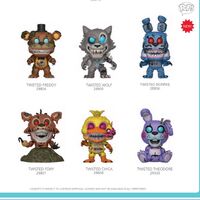 Merchandise
Ad blocker interference detected!
Wikia is a free-to-use site that makes money from advertising. We have a modified experience for viewers using ad blockers

Wikia is not accessible if you've made further modifications. Remove the custom ad blocker rule(s) and the page will load as expected.